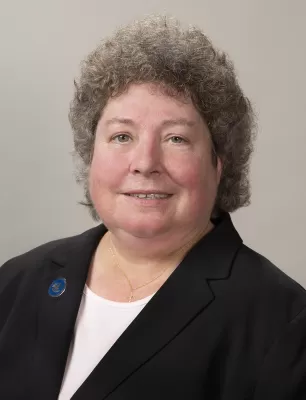 November 7, 2018
Dear Sisters and Brothers of the Religious Formation Conference,
As we continue the hallowed month of November, we begin to prepare for the feast of Thanksgiving. A favorite psalm of thanks for me is Psalm 136 in which the phrase "for God's mercy endures forever" repeats as a mantra in the recounting of the great deeds of the Lord. We could each add our own lines to the psalm, telling of God's goodness in our lives.
This year, we at the Religious Formation Conference (RFC) rejoice in the many ways in which God's life and love have been so visibly manifest to us through you, our members, particularly through your participation in our programs. In the Life Commitment Program, 22 newer religious gathered for eight days to discern together God's call to profess perpetual vows in their congregations. What a sign of hope they are!
Over 20 religious men and women are members of the two current cohorts of ForMission, a two-year, non-residential program that prepares formators. They gather in January and later in the spring for a week of intensive input and process. Soon they will companion the next generation of religious in our congregations.
A few weeks ago, 50 formators, leaders, and vocation directors participated energetically in an Orientation to Formation program, entitled "Walking the Unfolding Path: Accompanying Those Discerning the Call to Religious Life." Their questions and insights inspired all of us present.
Each of these RFC programs has experienced significant growth in attendance this past year. This truly is a sign that religious throughout the United States and beyond are preparing seriously not only for the initial formation of their newest members, but also the lifelong formation of all their members.
These intensive programs are complemented with webinars and workshops that are offered more frequently to broader audiences online. This past year we offered 6 webinars and a workshop to well over 1,000 participants from a variety of countries. We have begun to experiment with offering regional workshops in two formats: an in-person session as well as a streaming version online. Participants have the flexibility to experience the workshop live or download it for later viewing.
We are committed to using technology to reach as wide an audience as possible, both in the United States and in other countries. Providing this access is critical, but costly. We seek your support of these programs in this year's appeal.
The use of streaming media is expensive, yet it enables us to share high quality, in-person workshops with hundreds of religious in a broad array of locales. Our goal is to offer programs for the ongoing formation of religious women and men as well as some geared specifically for formators at affordable prices.
I invite you to help us broaden our outreach, maintain excellence in quality, and increase accessibility through technology by making a financial gift to this year's annual appeal. Please donate using the safe and secure online form here:
Your generosity to this appeal is an investment in the initial formation of our newest religious as well as the lifelong formation of all religious. "Praise the God of heaven, for God's mercy endures forever." Ps 136:26
In Gratitude,
Ellen Dauwer, SC
Executive Director