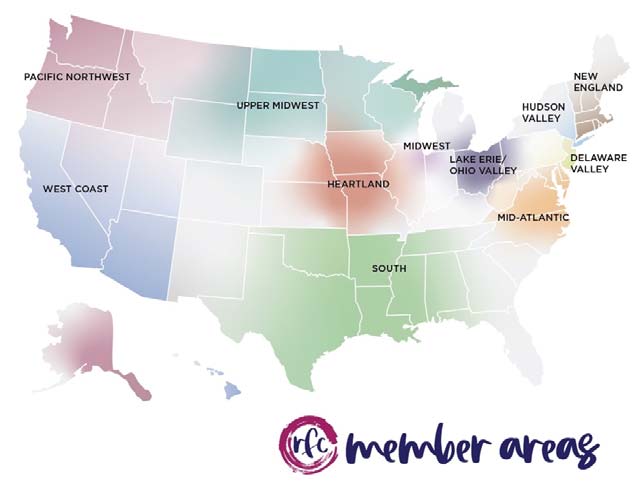 Member Areas play a crucial role in advancing RFC's mission. They serve to:
foster support, community, and networking among those in formation ministry;
facilitate opportunities for members to participate in workshops pertinent to initial formation, lifelong formation, and the ongoing preparation of formators;
strengthen the relationship between members, local congregations/provinces/monasteries, and the National Office by serving as a conduit of information, feedback, best practices and the like.
Member Areas are configured to maximize engagement and participation. Characteristics include:
11 Member Areas dispersed nationally,
geographic hubs anchored by population centers,
open boundaries/borders so as to maximize networking, connection and collaboration, and
the option for members to choose which Member Area/s they wish to affiliate
Member Areas attend to the formative journeys of those in religious life. They embody this by:
cultivating safe and sacred spaces for formator support, community-building, connection and networking;
discerning and implementing programs that meet their needs and address issues, topics, and best practices important to them;
engaging the three dimensions of the Conference's mission: initial formation, lifelong (ongoing) formation, and the ongoing preparation of formators;
participating in communal prayer, faith-sharing, and spiritual development; and
utilizing technology (e.g., Zoom, Facebook groups, blogs, live-streaming, etc.) to enhance connection, dialogue and collaboration 
Member Area
Member Area Liaisons
Population Hubs
Delaware Valley

Michelle Lesher, SSJ (Lesher@chc.edu)
Megan Brown, RSM (mbrown@mercymidatlantic.org)

Philadelphia
Heartland

Marie Rachelle Cruz, DC (srmrcruz@doc1633.org)

St. Louis/Kansas City
Hudson Valley

Elaine Bebyn, MPF (srelaine@villawalsh.org)

New York/New Jersey
Lake Erie/Ohio River

Sharon Cahill, HM (scahill@humilityofmary.org)

Pittsburgh/Cleveland
Mid-Atlantic

Paul Schloemer, OFM Conv (schlomy@alumni.nd.edu)

Washington DC/Baltimore
Midwest

David Hirt, OFM Cap (brodavid@thecapuchins.org)
Marsha Speth, SP (mspeth@spsmw.org)

Chicago/Milwaukee
New England

Frank Hagerty, SSE (hagertysse@gmail.com)
Michelle Bisaillon, DHS (dhsjoy@live.com)

Boston
Pacific Northwest

Coralie (Corky) Muzzy, CSJP (cmuzzy@csjp-olp.org)

Seattle/Portland
South

Helen Marie Miksch, CDP (hmiksch@cdptexas.org)
Loretta Armand, SHSp (lorettaarmand@hotmail.com)

San Antonio/Dallas/New Orleans
Upper Midwest

Lisa Maurer, OSB (srlisa@duluthosb.org)

Dubuque/Minneapolis
Western States

Linda Buck, CSJ (lbuck@csjorange.org)

San Francisco/Los Angeles
The RFC is committed to supporting formation ministers in Canada and other international locations. 
Conference membership includes formators in such countries as Italy, Ireland, Rome, Britian, Australia and Mexico. The National Association of Vocation and Formation Directors (NAVFD) in Canada, for example, is a valued partner and collaborator. We welcome networks of formators outside of the U.S. to connect with our mission and participate in programming.   
Let us know how we can partner. 
The Conference's staff liaison to Member Areas is Ryan Hoffmann, Co-Director. Questions and inquiries can be directed to him via email at rhoffmann@relforcon.org or by phone at 773.243.4751. He welcomes the opportunity to connect.