During the plenary session on Friday, November 10th at the 2023 RFC Congress in Chicago Cardinal McElroy will give the following keynote address followed by a question-and-answer period and small group dialogue. 
Two major missionary imperatives have emerged from the synodal process for religious women and men and their communities. The first is to renew religious communities to more fully incorporate synodality into their identity, culture and mission. The second is to draw from the renewal that religious life has already undertaken since the Second Vatican Council, and use that experience to witness to the realities of communion, participation and outreach in the larger Church. The meetings in Rome will help crystalize this two-fold dynamic which provides such a hope-filled and spiritually rich new chapter in the history of religious life in our time.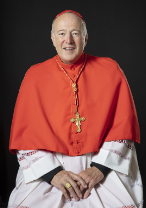 Rev. Cardinal Robert W. McElroy was born in San Francisco on February 5, 1954. He received his undergraduate education at Harvard, and received a master's degree in American history from Stanford in 1976. Entering the seminary for the Archdiocese of San Francisco, he was ordained a priest in l980 and was assigned to the parish where both his parents had been raised. Bishop McElroy served as pastor at St. Gregory Parish, San Francisco, for 15 years.
In l985 Archbishop Quinn asked him to pursue studies in the field of Catholic social teaching. He received a doctorate in moral theology from the Gregorian University in Rome and a doctorate in political science from Stanford in l989. In the following years he served the Archdiocese of San Francisco as vicar general and as a pastor, and in 2010 Pope Benedict appointed him auxiliary bishop of San Francisco. In 2015 Pope Francis appointed him bishop of San Diego.
Bishop McElroy has written two books: The Search for an American Public Theology and Morality and American Foreign Policy. In addition, he has written a series of articles on theology and public policy for a variety of journals.
Click to register for Congress