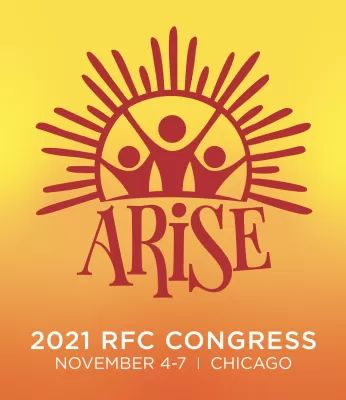 Dear Conference Members, Collaborators and Friends,
We're pleased to announce that registration for the 2021 RFC Congress, November 4-7, is now open.
The RFC is excited to offer this year's Congress in two formats: (1) face-to-face in Chicago and (2) virtually for those unable to join us in person. 
The face-to-face option enables peer-to-peer networking, exchange of ideas and best practices, communal worship and prayer, Q & A with presenters (who will be live with us in Chicago), table discussions, relationship-building, Member Area collaborations and more.  
The virtual option includes a livestream of the main presentations, provides access to audio recordings of the seminar sessions, and gives participants the option of engaging with one another via facilitated Zoom debriefing sessions after the keynote addresses. 
Click to register for Congress.  In-person and virtual packages now available!
While this year's hybrid event will look different than in years past, we're committed to providing a face-to-face and virtual Congress experience that meets the needs of our members, collaborators and friends. This year's Congress participants, both those attending in-person and virtually, will get more exceptional content than ever before given the digital capture of all the main presentations and seminar sessions. Additionally, energizing prayer and liturgy, dynamic dialogue, and application will make this year's Congress an outstanding event for all those involved with initial and ongoing formation in religious life.

-RFC Staff