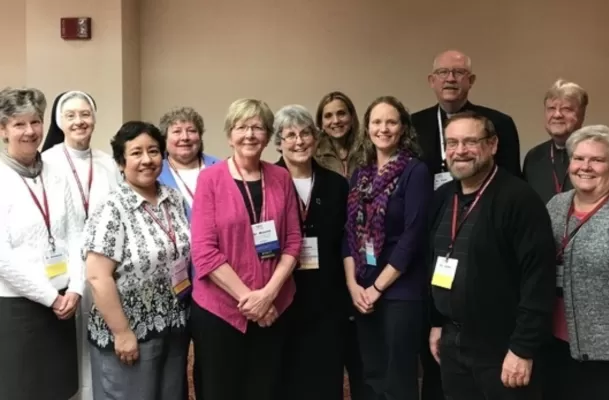 In November representatives of ten of NRVC's collaborating organizations gathered prior to the start of the NRVC Convocation to discuss and give input into its major survey of religious institutes and societies of apostolic life. Funded by the GHR Foundation, NRVC is partnering with the Center for Applied Research in the Apostolate (CARA) in this research on religious life and religious vocations. RFC was able to make suggestions for survey items from the perspective of formators. The first part of the survey was sent to all major superiors in late January. The second part of the survey will be sent in early spring to members who entered religious life from 2003 to 2018.
NRVC is asking RFC members to encourage their leaders and newer members to complete the survey. 
They are hoping that all institutes will participate regardless of whether they have had newer vocations.
Click here for more information
Representatives of nine national organizations recently gave input on the forthcoming NRVC study of new vocations. Left to right, pictured, are: Sister Annmarie Sanders, I.H.M. with LCWR; Sister Mary Bendyna, O.P. with CMSWR; Sister Elizabeth Ann Guerrero, M.C.D.P. with Mexican American Catholic College; Sister Ellen Dauwer, S.C. with Religious Formation Conference; Sister Maxine Kollasch, I.H.M. with A Nun's Life Ministry; Sister Deborah Borneman, SS.C.M. with NRVC; Stephanie Hall with Communicators for Women Religious; Sister Jessie Beck, P.B.V.M. with Giving Voice; Father Thomas Gaunt, S.J. with CARA; Father John Pavlik, O.F.M. Cap. with CMSM; Brother Bill Boslett, O.S.F. with Religious Brothers Conference; and Sister Maria Hughes, A.S.C., facilitator.