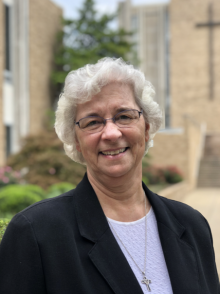 Sister Marcelline is a Dominican Sister and directs the Office of Justice for the Dominican Sisters of Springfield, IL. In this capacity, she serves as the Justice Promoter, Co-coordinator of the Springfield Dominican Anti-Racism Team, and liaison for the congregation's Socially Responsible Investing effort. In March of 2014, she was also named the North American Co-Promoter for Justice for the Dominican Family. It was in this capacity that she was part of a delegation to Iraq in January 2015. 
Previous to this ministry she was on her congregation's Leadership Team for eight years. She also directed Project IRENE, an LCWR education and advocacy initiative focused on women and children. Sr. Marcelline was an elementary school educator and administrator for over 30 years, serving both in urban and rural areas. 
She currently also volunteers with the Springfield Coalition on Dismantling Racism and the Springfield Immigration Advocacy Network.