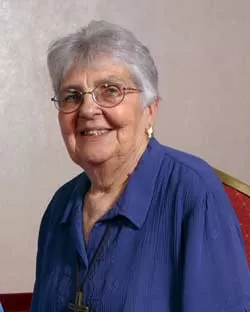 For over fifty years, Sister Mary Daniel, SNDdeN, was engaged in the beginnings and on-going development of the Religious Formation Conference. One of the original designers of the Conference's ForMission Program, she also contributed to the revision of its Life Commitment Program and served on its Advisory Council for Programming. In 2009, Sister Mary Daniel received the Conference's Mary Emil Penet Award for her outstanding contribution to the initial and lifelong formation of religious women and men, both nationally and internationally.
Mary Daniel Turner Scholarships
Are intended for religious whose congregations are members of the Religious Formation Conference and who demonstrate a need for financial assistance with program costs
May be requested to support a religious' participation in any program offered by the Conference, with particular attention paid to requests for assistance with costs of the ForMission program
Are partial; congregations must be prepared to assume a portion of the program for which they are requesting assistance.
For application information, contact rfc@relforcon.org.